Published 04-06-09
Submitted by Ball Corporation
BROOMFIELD, Colo., April 6 /PRNewswire-FirstCall/ -- Ceres and the Association of Chartered Certified Accountants (ACCA) have selected Ball Corporation (NYSE: BLL) as a co-winner for the Best First Time Reporter Award for sustainability reporting in the 2009 Ceres-ACCA North American Sustainability Awards. Ball is the first packaging and first aerospace company to receive this distinction.
Ball published its first sustainability report in June 2008. The company received the award for its comprehensive approach to sustainability, demonstrated commitment to stakeholder engagement and the company's strategy for producing sustainable packaging and supporting recycling. For more about the award, go to www.ceres.org/reportingawards.
"Our sustainability report was an important step in our efforts to become a more sustainable enterprise," said R. David Hoover, Ball's chairman, president and chief executive officer. "Being selected to receive the Ceres-ACCA award confirms we are on the right track and further encourages us in our sustainability efforts."
Ball will update stakeholders on the company's progress in its next sustainability report, scheduled for release in May 2010.
The annual Ceres-ACCA awards program is designed to highlight best practices in reporting on sustainability issues by North America-based organizations, and to provide guidance to other groups and companies that are publishing or intend to publish sustainability or corporate social responsibility reports.
The awards acknowledge exemplary disclosure that places performance in the broader context of sustainability challenges, risks and opportunities. The judging criteria address completeness, credibility and quality of communication. The panel of 11 judges included leaders and experts representing a broad spectrum of backgrounds in the nonprofit, corporate and investment worlds.
Ceres is the leading U.S. network of investors, environmental groups and other public interest organizations working with companies to address sustainability challenges. The Association of Chartered Certified Accountants (ACCA) has promoted transparency in reporting the impact of business activities on sustainable development through its sustainability awards program since 1991, and is involved in reporting awards in more than 20 countries around the world.
Ball Corporation is a supplier of high-quality metal and plastic packaging for beverage, food and household products customers, and of aerospace and other technologies and services, primarily for the U.S. government. Ball Corporation and its subsidiaries employ more than 14,000 people worldwide and reported 2008 sales of approximately $7.6 billion. For the latest Ball news and for other company information, please visit www.ball.com.

Forward-Looking Statements
This release contains "forward-looking" statements concerning future events and financial performance. Words such as "expects," "anticipates," "estimates" and similar expressions are intended to identify forward-looking statements. Such statements are subject to risks and uncertainties which could cause actual results to differ materially from those expressed or implied. The company undertakes no obligation to publicly update or revise any forward-looking statements, whether as a result of new information, future events or otherwise. Key risks and uncertainties are summarized in filings with the Securities and Exchange Commission, including Exhibit 99.2 in our Form 10-K, which are available at our Web site and at www.sec.gov. Factors that might affect our packaging segments include fluctuation in product demand and preferences; availability and cost of raw materials; competitive packaging availability, pricing and substitution; changes in climate and weather; crop yields; competitive activity; failure to achieve anticipated productivity improvements or production cost reductions, including our beverage can end project; mandatory deposit or other restrictive packaging laws; changes in major customer or supplier contracts or loss of a major customer or supplier; and changes in foreign exchange rates, tax rates and activities of foreign subsidiaries. Factors that might affect our aerospace segment include: funding, authorization, availability and returns of government and commercial contracts; and delays, extensions and technical uncertainties affecting segment contracts. Factors that might affect the company as a whole include those listed plus: accounting changes; changes in senior management; the current global credit squeeze and its effects on liquidity, credit risk, asset values and the economy; successful or unsuccessful acquisitions, joint ventures or divestitures; integration of recently acquired businesses; regulatory action or laws including tax, environmental, health and workplace safety, including in respect of chemicals or substances used in raw materials or in the manufacturing process; governmental investigations; technological developments and innovations; goodwill impairment; antitrust, patent and other litigation; strikes; labor cost changes; rates of return projected and earned on assets of the company's defined benefit retirement plans; pension changes; reduced cash flow; interest rates affecting our debt; and changes to unaudited results due to statutory audits or other effects.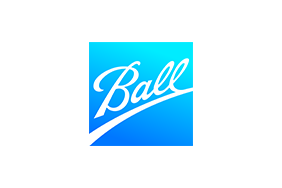 Ball Corporation