Published 05-21-03
Submitted by SCS Global Services
EMERYVILLE, CA — Scientific Certification Systems (SCS) today announced that it has released its pilot standard for environmentally preferable carpet. The standard, titled "Standard Specification for the Evaluation and Certification of Environmentally Preferable Carpet," was developed by SCS as part of its ongoing efforts to improve the environmental performance of building and construction products. Products such as these play a fairly substantial role with the LEED (Leadership in Energy and Environmental Design) Green Building Rating System. The federal government defines 'Environmentally Preferable' as products or services that have a lesser or reduced effect on human health and the environment when compared with competing products or services that serve the same purpose. The pilot standard is available for public review and comment via the SCS website at www.scscertified.com/carpet. The public comment period closes on July 21, 2003. An initial draft of the standard was previously circulated to key stakeholder groups for review and comment.
The SCS carpet standard applies to all broadloom and tile carpet products used in residential, commercial, and institutional applications. It is designed to address all key stages of the product life-cycle and incorporates relevant environmental and human health issues. The standard provides a flexible framework that recognizes and accommodates the wide range of materials, locations, energy sources, production systems, performance requirements, and corporate initiatives involved in the production of carpet today.
"The design community greatly benefits from having independent, credible standards for environmentally preferable products in the marketplace," said Dru Meadows, cofounder of the GreenTeam, a strategic environmental consulting firm, and chair for ASTM International's Committee on Sustainability in Building. "SCS's carpet standard can be valuable in helping to identify those carpet companies that are truly improving their environmental impacts," said Ms. Meadows.
For manufacturers of carpet products, the standard establishes the criteria necessary for certification of the product(s) as environmentally preferable. Manufacturers cannot, however, self-certify their product(s). Instead, independent third parties review and audit the manufacturer in accordance with the standard and provide an independent assessment/certification of the product(s) environmental preferability.
The carpet standard is broken down into several, scored categories using a 100-point scale. To achieve certification as an environmentally preferable product, manufacturers must demonstrate that the carpet meets the following minimum requirements to the satisfaction of the independent third party evaluator:
1. A minimum of 75 points overall; and
2. A minimum of 50 percent of the total points available in each of the following four areas:
a. Resource Conservation;
b. Product Manufacturing;
c. Product Performance in Use; and
d. Extended Product Responsibility.
Resource Conservation (30 Points)
While carpet is manufactured using a wide variety of materials, the majority of raw materials are from virgin, non-renewable resources such as oil. The SCS carpet standard encourages (and rewards) the selection and use of materials manufactured wholly or in part from recycled content (post-consumer and post-industrial), bio-based, and environmentally preferable ingredients. Carpet face fiber and carpet backing are addressed separately. Points are also awarded based on use of alternative energy.
Product Manufacturing (30 Points)
As part of the standard, carpet manufacturers must meet strict requirements for air pollutants, process water discharges, toxic chemicals, and ozone depleting substances. Manufacturers are also required to have a documented and operational waste minimization plan in place. Energy use must be continually reduced and packaging/delivery options should minimize waste during transport and installation of the product. Lastly, manufacturers that support public disclosure and transparency of key environmental data through annual sustainability reports or other such mechanisms are awarded additional points.
Product Performance in Use (20 Points)
Incorporating positive environmental attributes cannot be undermined by lower quality performance. For products to be deemed environmentally preferable, they must perform at or above recognized industry standards. Performance criteria include such items as texture retention, tuft bind, delamination, stain resistance, fire spread, and smoke density. The carpet standard also addresses control of volatile organic emissions that are potentially irritating or harmful to the comfort and well being of installers and occupants. Certified products must also limit the potential for mold growth and the potential health impacts of exposure to mold.
Extended Product Responsibility (20 Points)
The SCS carpet standard requires manufacturers to assume responsibility for what happens to their products at the end of their useful life. Manufacturers must ensure that existing and new carpet products can be collected, processed, and recycled through existing carpet recycling infrastructure. Recent data indicate that currently over 2 million tons of carpet is discarded each year. The SCS standard encourages the diversion of carpet from landfills and instead redirects resources back to the manufacturing process.
"By going beyond minimum compliance with government mandates, SCS is enabling manufacturers to take full responsibility for the proper disposal and reuse of their products," said Ann Ludwig, Senior Program Manager for the Alameda County (California) Waste Management Authority. "SCS is keeping materials from our landfills and helping to create a sustainable future for our children."
Innovation in Design, Production, Management (10 Bonus Points)
To provide manufacturers the opportunity to be awarded points for exceptional environmental performance, the standard includes an innovation credit, which is judged on a case-by-case basis.
"SCS had over 10 years of experience with environmental certification before it launched it environmentally preferable products initiative in 2000," said Kirsten Ritchie, SCS's director of environmental claims. "This standard is designed to identify those companies that are now willing to move beyond single attribute certification and address every stage of a product's life cycle. Companies that become certified against this standard are truly the best of the best," said Ms. Ritchie.
About SCS
SCS is a private company founded by and under the leadership of scientists and leading practitioners, which is recognized internationally for its third-party evaluation and certification programs. Founded in 1984, SCS offers third-party certification services that span a wide cross-section of the economy including forestry, fisheries, agricultural production, energy, consumer products, manufacturing and retailing, and the home improvement and construction sectors. For more information about SCS, visit the company's Web site at www.scscertified.com or call 510-452-8000.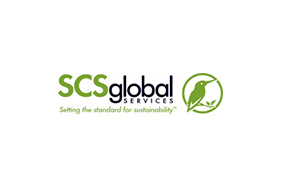 SCS Global Services
SCS Global Services
SCS is a leading third-party provider of certification, auditing and testing services, and standards, founded in 1984. Our goal is to recognize the highest levels of performance in food safety and quality, environmental protection and social responsibility in the private and public sectors, and to stimulate continuous improvement in sustainable development.
More from SCS Global Services