Published 09-04-08
Submitted by YOBI.tv
DETROIT, Sept. 4 /PRNewswire/ -- "Combine two of the most popular things out there today - YouTube with reality TV - and you have a new Web site, www.YOBI.tv. This site offers cash prizes for posting videos showcasing the creator's talents and expertise to the world. The site combines user-generated videos and reality television in a contest forum. People don't have to wait for the opportunity to get others to see their talents but instead can use this site to expose and display their work." - Greg Ellman, Star- Telegram

YOBI.tv is a new world of digital entertainment, is free, and has contest channels for Vocal Talent, Film Making, Comedy, Photography, Fashion Design, and Innovation. Members can create niche profiles for socializing or to show off their talents. There is no shortage of people waiting for their "15 minutes of fame" and YOBI.tv gives anyone the power to create that opportunity.
YOBI.tv is not just about contests. This is a social network with a social conscience. YOBI gives a percent of revenue to charities and offers a free channel for humanitarian efforts. YOBI World, featured by Yoko Ono (a YOBI.tv Member) on Imagine Peace, is a global gathering place for the world to discuss, in United Nations style forum, the challenges that face our planet and for humanitarians to meet and to create free profiles. "Inspired by John Lennon and Bono who have been major influences in creating a better world, this is my favorite part of YOBI.tv and the reason that this all began," states Dianne Victor, founder and CEO.
YOBI is now receiving members and visitors from more than 80 countries and worldwide attention from media, social network groups, schools and universities. Most importantly, voting has now started. Members have 30 weekly chances to win the most member votes in order to advance to the semi-finals to compete for the cash prizes. The minimum prize fund, per each channel, is $10,000. The more participation, the higher the prize funds grow and the sooner you enter the contest, the more chances you have to win.

Based in Michigan, USA, Ms. Victor has high hopes that this new intellectual property to the World Wide Web will expand the entertainment industry in her home state, open endless opportunities for the contestants and winners, and to create the power for the world to gather for positive change.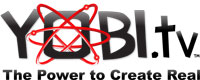 YOBI.tv