Published 09-17-08
Submitted by Boys & Girls Clubs Of America
WASHINGTON, Sept. 17 /PRNewswire-USNewswire/ -- America's youth need help. From academic failure and gang violence to poverty, drugs and obesity, they face a daunting array of problems -- with serious consequences and fewer safety nets at home and in the community.
(Photo: http://www.newscom.com/cgi-bin/prnh/20080917/DC33661-a )
(Photo: http://www.newscom.com/cgi-bin/prnh/20080917/DC33661-b )
(Logo: http://www.newscom.com/cgi-bin/prnh/20050921/CLW030LOGO )
To address these issues and call America to action, Boys & Girls Clubs of America (BGCA), the nation's largest youth development network, is kicking off a new integrated advocacy campaign called BE GREAT, led by national spokesperson and Academy Award-winning actor, Denzel Washington.
Other Club alumni joining Washington in the BE GREAT campaign include: Muhammad Ali, Swin Cash, Bill Clinton, Bill Cosby, Cuba Gooding, Jr., Michael Jordan, Queen Latifah, Mario Lopez, John Mellencamp, Edward James Olmos, Smokey Robinson, John Singleton, Ruben Studdard, Usher, Courtney Vance, Mark Wahlberg, and Kerry Washington.
"As someone whose life was changed dramatically by the Boys & Girls Club, I can think of no better organization to lead the country in addressing the pressing needs of today's young people," said Washington. "I also believe that as adults we must assume responsibility for many of the conditions that are preventing our young people from achieving their full potential."
The BE GREAT campaign will be unveiled today after a Congressional Breakfast on Capitol Hill. At the breakfast, BGCA will announce the organization's 2008 -- 2009 National Youth of the Year, Shonnetta Henry of Denver, Colo., who shares her story about how the Boys & Girls Club has affected her life. Following the event, Ms. Henry will personally deliver a report of recommendations to the offices of Senators John McCain and Barack Obama to convey the issues of most concern to America's teens.
The BE GREAT campaign was developed after BGCA conducted an online survey of more than 1,100 teens earlier this year in which the young people said that education is the top issue facing America (33 percent). In the survey, another 67 percent reported knowing someone who had dropped out of high school.
In a BGCA-hosted national Teen Town Hall Meeting held earlier in Los Angeles, young Americans expressed concern about the rising level of teen pregnancy (20 percent) and 22 percent reported knowing students who regularly carried weapons to school.
In response, BGCA's advocacy campaign urges Americans to:
Get involved in the life of a child by volunteering, serving on a local board, or financially supporting local Boys & Girls Clubs;

Ask elected officials to call attention to the issues affecting young people, and to direct more partnerships and resources toward solutions;

Reconnect and re-engage, as alumni, with organizations such as Boys & Girls Clubs that impacted their lives as youth;

Host a Teen Town Hall in their community (visit www.be-great.org for tips.)
About Be Great
To communicate its advocacy efforts, BGCA is launching a call-to-action plan built around the new BE GREAT campaign, which was developed by McCann Worldgroup, working on a pro bono basis. Public relations agency Weber Shandwick will provide pro bono media relations and event support. The Outdoor Advertising Association of America (OAAA) has selected BGCA as one of its official charities and will bring the BE GREAT campaign to audiences from coast-to-coast through billboards and other out-of-home venues including bus shelters, airports and shopping malls.

This integrated campaign positions BGCA as a recognized leader in youth development, with proven programs tackling tough issues like the high school dropout rate, childhood obesity and gangs.

"We are very excited about the BE GREAT campaign and the opportunity to position Boys & Girls Clubs of America as a true advocate for today's young people," said BGCA President and CEO Roxanne Spillett. "BE GREAT marks the first time we are bringing a full complement of BGCA alumni to illustrate the effectiveness of our generation-changing programs."

BE GREAT is designed to increase public awareness and understanding about the positive impact of Clubs by focusing on celebrated alumni who are living proof that the programs work. Further evidence is found in the 2007 BGCA alumni survey conducted by Harris Interactive.

Fifty-seven percent of alumni reported, "The Club saved my life," another 28 percent credited Boys & Girls Clubs with keeping them in school.

BE GREAT also includes a new Web site (www.be-great.org) where the general public can find useful resources and compelling stories about the diverse lives touched by Boys & Girls Clubs. The site will also include a Club locator to help visitors find a nearby Boys & Girls Club where every child is welcome and volunteer support is appreciated.

Additional campaign components include: TV/radio PSAs, print/outdoor ads, outreach to teens via BGCA's "My Club My Life" Web site (www.myclubmylife.com) and YouTube channel, an op-ed series addressing key issues facing young people, and PR/advocacy with issue-based events, PR tools and media templates to help local Clubs advocate on behalf of youth.

Boys & Girls Clubs of America urges the country's political and business leaders to make the young people of America a priority and encourage every citizen to make a difference by supporting organizations such as Boys & Girls Clubs "" ensuring that every child has a safe, supervised and structured environment during the critical after-school hours.

About Boys & Girls Clubs of America

Boys & Girls Clubs of America (www.bgca.org) comprises a national network of some 4,300 neighborhood-based facilities, with 4.8 million youth served through Club membership and community outreach, in all 50 states and on U.S. military bases worldwide. Known as "The Positive Place for Kids," the Clubs provide guidance-oriented character development programs on a daily basis for children 6-18 years old, conducted by a full-time professional staff. Key Boys & Girls Club programs emphasize leadership development, education and career exploration, financial literacy, health and life skills, the arts, sports, fitness and recreation, and family outreach. An estimated 30 million American youth have been served by Boys & Girls Clubs since the founding of BGCA in 1906. National headquarters are located in Atlanta.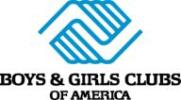 Boys & Girls Clubs Of America