Published 09-22-08
Submitted by Ted's Montana Grill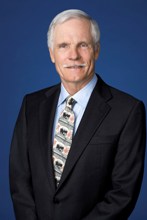 Ted Turner
ATLANTA, GA - Sept 22, 2008 - Ted Turner (www.tedturner.com), co-founder of Ted's Montana Grill and a lifelong environmentalist and entrepreneur, knows a thing or two about firsts. In a new podcast -
www.tedsmontanagrill.com/GreenRestaurantRevolution.html "" Turner is featured talking with local restaurateurs about ways the industry can come together to do better for the environment.
Turner, along with his restaurant partner George McKerrow Jr., visited five cities - Atlanta, Boston, Philadelphia, New York City and Washington, D.C. - to meet with restaurant owners and operators and discuss ways restaurants can be even greener in their daily operations. Celebrity chefs and journalists, such as Chef Todd English and Deborah Roberts of ABC News, interviewed Turner and McKerrow in each market in an intimate, question-and-answer format for guests. Turner and McKerrow also met with hospitality and culinary students in each city to talk and brainstorm about ways these future industry leaders can have a more positive impact on the planet.
Highlights of the tour, called "The Green Restaurant Revolution," are featured on the podcast and direct viewers to the new National Restaurant Association Web site, www.conserve.restaurant.org, to learn more about environmental programs and products that can be implemented at the restaurant level. The Conserve Web site was funded in part through a grant from The Turner Foundation (www.turnerfoundation.org).
"There are almost a million restaurants operating today in the United States alone," McKerrow points out. "Imagine if each restaurant made only one small change to preserve resources what a huge impact we can make. We know we're only a small part of the equation, but together we can make a big difference."
Since its founding in 2002, Ted's Montana Grill has been committed to being an environmentally friendly restaurant company. The restaurants recycle nearly all of their paper, plastic, aluminum and glass products. Menus are printed on recycled paper and soft drinks come in recyclable glass bottles. Instead of plastic, eco-friendly paper straws and wooden drink stirrers are used. To-go cups look like plastic but are actually made from corn starch. Even the to-go cutlery is made from potato starch. The restaurants also have low-voltage lighting in their guest areas. Other measures include restrooms with water-efficient toilets, waterless urinals and biodegradable powder Boraxo soap. Kitchens are equipped with griddle cooktops, which lower the level of grease particulates in the air, and all restaurants are non-smoking. www.tedsmontanagrill.com
Ted's Montana Grill