Published 01-21-09
Submitted by Article13 Group Ltd
- January 21, 2008 - As part of Article 13's values and principles we feel it our duty to do everything we can to reduce our environmental footprint. Therefore on a monthly basis a dedicated member of the Article 13 team monitors; the levels of fuel use; electricity and paper consumption; air travel; and public transport. Furthermore, Article 13 has inserted a standard rate Carbon Clause into client contracts which contributes £20 to offsetting carbon emissions.
We have recently published our annual Environmental report which details;
Our monthly usage of fuel, electricity, paper, air travel emissions, public transport;

The 2008 percentage change on our 2007 levels;

Our targets and actions for 2009 to further improve our environmental practices and impacts of our business activities and operations.
Due to the day-to-day individual efforts of our team, as well as a Company concerted effort up to and including 2008, Article 13 has monitored and the following changes in our; in our fuel consumption (14% increase on our 2007 levels due to increasing attendance and therefore use of car travel to and from the office); electricity consumption (a 27% decrease); paper consumption (a 10% decrease); and business related air travel emissions (a 144% decrease) on 2007 levels.

To continue to push our targets and thus efforts, for 2009 we have committed to further improvements to our environmental practices and actions, mainly by; changing behaviour (e.g. reducing business related car travel), promoting responsibility (e.g. advocate and raise awareness through our vast network and website), and actioning measures (e.g. annual offset of our carbon footprint)

These actions, alongside our existing and longstanding Environmental policy, exemplify Article 13's continual striving to improve its environmental performance and advocates responsible business in the area of environmental and social sustainability.

For more information regarding Article 13's environmental practices and policy, please see our UNGC pages.

For information on how Article 13 can assist you in auditing your companies practices, developing action plans, and reducing your business related effects on the environment, contact Fiona Banyard on 0208 840 4450 or mail fionab@article13.com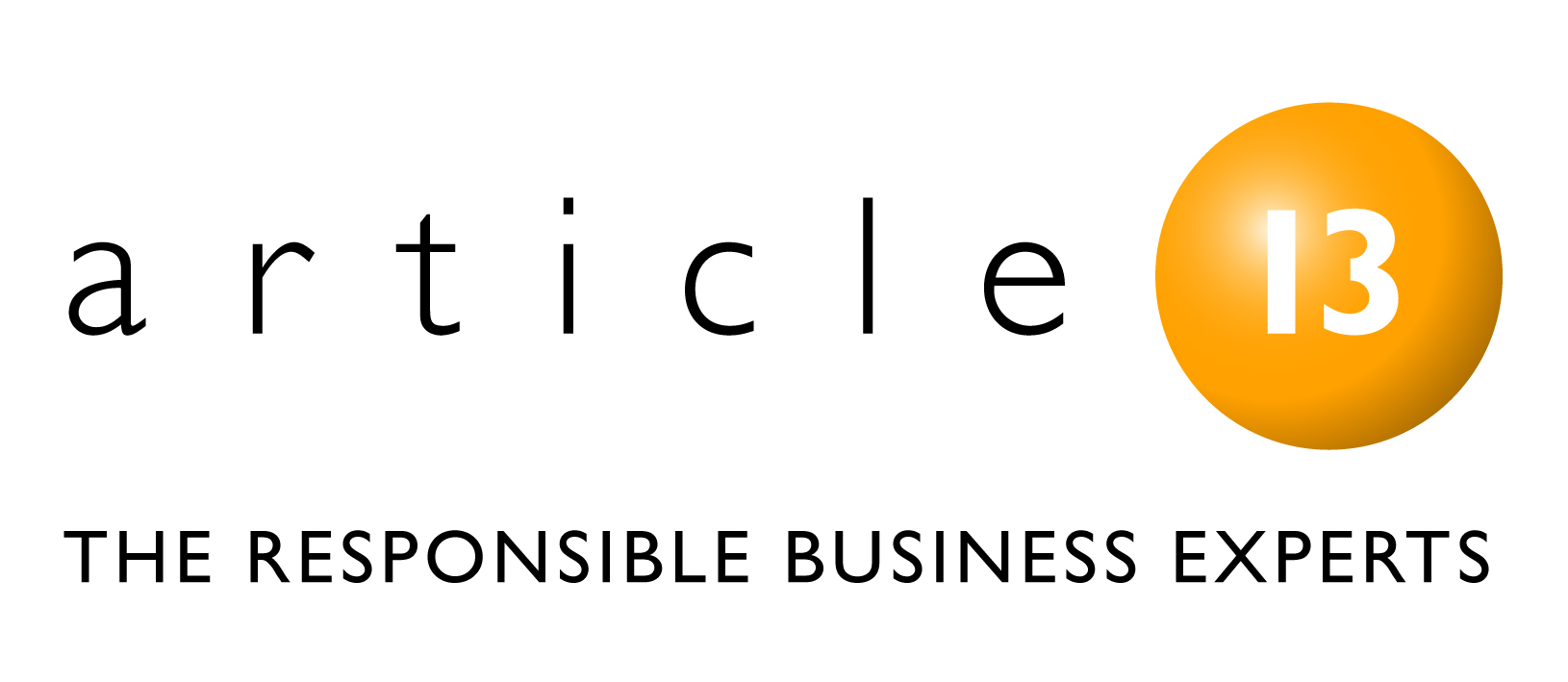 Article13 Group Ltd
Article13 Group Ltd
Corporate Social Responsibility (CSR) Experts: We are experts in business responsibility, typically in the areas of corporate social responsibility (CSR), sustainability and governance. Our services include:
Consultancy for business responsibility

CSR policy & strategy
CSR / sustainability audits & benchmarking
Stakeholder engagement
CSR & sustainability reporting
Non-financial risks & futures
Governance

Training for CSR & sustainability

Responsible business masterclass
Transformative leadership for responsible business
Building business success and values masterclass
Green learning (in association with REED)

Executive coaching

Coaching & mentoring for responsible business

Research on business responsibility

CSR case studies
Quarterly responsible business features
Biannual research reports
More from Article13 Group Ltd