Published 05-05-09
Submitted by ASSET4
Zug, Switzerland. - May 5, 2009 - ASSET4 AG today announced that Andrew White, the former UK Managing Director for Innovest Strategic Value Advisors, has joined ASSET4 as Senior Sales Director in the United Kingdom, and Dr. James Murphy and Andre Chanavat have joined the ASSET4 Client Services organisation. Dr. Murphy has taken the role of Director of Client Services, while Mr. Chanavat is a Client Services Executive. ASSET4 is the world's leading provider of objective and measurable environmental, social and corporate governance (ESG) information.
"Andrew White's over ten years of extra-financial research experience, wide-ranging financial industry contacts and work with governmental and international agencies makes him an important addition to the ASSET4 management team," said Peter Ohnemus, ASSET4 President & CEO. "The United Kingdom is clearly a European and global leader in responsible investing, and Andrew will be able to provide the level of leadership that our clients and prospects in the UK require."
"I wanted to join ASSET4 because I fundamentally believe in their approach to extra-financial research," said Andrew White, ASSET4 Senior Sales Director UK. "Today's professional investors and corporate executives are demanding a level of transparency, objectivity and flexibility that can only be provided by the objective and comparable ESG information offered by ASSET4. Combining ASSET4's comprehensive database and the flexibility of their solution with the ability to do bespoke research represents an ideal solution for many clients."
Andrew White has over ten years of experience within the extra-financial research industry in which he has held managing director positions at Innovest Strategic Value Advisors and Core Ratings. During this time Andrew was responsible for product development, in areas such as carbon finance and international norms-based compliance, as well as building new sustainability themed funds and indexes together with leading banks and fund managers.
"James Murphy's experience at the GRI and through his CSR consulting activities has made him a true thought leader in the area of responsible investing," said Henrik Steffensen, ASSET4 Vice President Marketing, Business Development, Services. "His industry expertise will ensure that our clients can rely on our Client Services organisation for a full range of support as they integrate the ASSET4 information into their everyday processes. Andre Chanavat's experience in fixed income investments is an important addition to the team as the significance of socially responsible fixed income investments continues to grow."
Dr. James Murphy previously served as Associate Director of the Global Reporting Initiative (GRI) in Amsterdam from 2004 through 2007 where he played an integral role in the development of the current GRI Sustainability Reporting Guidelines. Most recently James directed global external relations at the International Institute for Strategic Studies, the world's leading think tank for international affairs, based in London, UK and has been consulting in both the non-profit and private sectors in the areas of CSR and sustainability.
Prior to joining ASSET4 Andre Chanavat worked for Interactive Data Corporation, a leading global provider of financial market data, analytics and related services to financial institutions, active traders and individual investors. As a portfolio analyst Andre performed fixed income research, analysis and support to both existing and prospective clients.

ASSET4
ASSET4 is the leading provider of objective, comparable and auditable extra-financial information. We provide professional investors and corporate executives access to the world's largest database of ESG information and the analysis tools to integrate that information into their everyday decision making. ASSET4 has 220 employees and is headquartered in Zug, Switzerland with locations in London, New York, Mauritius and India. ASSET4 is a proud signatory of the UN's Principles for Responsible Investment and a contributing member to organisations and initiatives like: UNEP-FI, Eurosif, UKSIF, USSIF, Nachhaltiges Investment and the Ceres Coalition in the US. For more information, please visit www.asset4.com.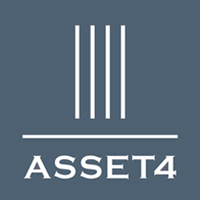 ASSET4
ASSET4
ASSET4 has the world's largest database of transparent, objective and auditable environmental, social and governance (ESG) information. Professional investors use our database and analysis tools for a variety of applications such as positive and negative screening, compliance monitoring and integration of ESG into their investment analysis. This enables them to systematically engage with companies, improve investment performance, reduce risk and lower research costs. Corporate executives, investor relations, CSR managers and corporate communication professionals have one-click access to ESG benchmarking and best-in-class tracking and evaluation capabilities. This enables companies to reduce enterprise risk, enhance corporate governance and increase accountability, transparency and trust, while at the same time improving communications with long-term investors and other stakeholders. ASSET4 has 240 employees and is headquartered in Zug, Switzerland with locations in London, New York, Paris, Frankfurt, Mauritius and India. It is a proud signatory of the UN's Principles for Responsible Investment. For more information, please visit www.asset4.com.
More from ASSET4