Published 04-02-09
Submitted by ASSET4
Zug, Switzerland. - April 2, 2009 - ASSET4 AG, the leading provider of environmental, social and corporate governance (ESG) information, today announced that it has released its Sovereign Supra(TM) solution, which enables investors to integrate extra-financial information into their fixed income investments in order to improve performance and manage risk in these volatile times.
ASSET4 is now using its proven ESG methodology to monitor and evaluate the ESG performance of countries, local authorities, private and state-owned companies and supranationals "" information that is playing an ever more important role in the creation of sovereign bond indices and products.
"During the current financial crisis there has been a flight to safety, which has led to an increase in interest in sovereign bonds. But at the same time investors want more transparency about the entities that make up these bonds, which is why our Sovereign Supra solution is important for today's market," said Peter Ohnemus, ASSET4 President and CEO. "Our solution is the most objective, transparent and flexible product on the market and will enable firms to create a new range of bond indices and products that are responsible and sustainable."
The current universe covers 67 countries (Foreign Sovereign), 31 local authorities, 91 companies (Agency), 35 state-owned companies (Government Guaranteed) and 30 supranational entities. For each entity approximately 150 ESG key performance indicators (KPIs) are tracked including total CO2 emissions, biodiversity, corruption rank, income inequality and literacy rate.
Like all of ASSET4's products, transparency is built-in, which means that users will be provided the values of the key performance indicators (KPIs) and raw data (publisher, publication date, etc.) for each KPI, as well as the scores for KPIs, categories, pillars and overall entity scores. All scores are computed based on performance and are not absolute but relative to the benchmark defined by the client.
The solution is completely flexible, allowing users to group KPIs into customised categories and/or select those they want to evaluate. Users can also choose the entities they are interested in and all scores and rankings will be based on the set of countries/companies selected by the user. These reports are now available in Excel and PDF formats and through a web-based product interface later in 2009.

Countries include:
Argentina, Australia, Austria, Belgium, Brazil, Bulgaria, Canada, Chile, China, Colombia, Croatia, Cyprus, Czech Republic, Denmark, Dominican Republic, Ecuador, Egypt, Estonia, Finland, France, Greece, Hong Kong, Hungary, Iceland, India, Indonesia, Ireland, Israel, Italy, Japan, Kuwait, Latvia, Lithuania, Luxembourg, Malaysia, Malta, Mexico, Morocco, Netherlands, New Zealand, Norway, Pakistan, Panama, Peru, Philippines, Poland, Portugal, Qatar, Romania, Russia, Singapore, Slovak Republic, Slovenia, South Africa, South Korea, Spain, Sweden, Switzerland, Taiwan, Thailand, Tunisia, Turkey, United Kingdom, United States of America, Venezuela, Vietnam

Local authorities include:
Quebec, Ontario, Baden-Württemberg, Bayern, Berlin, Brandenburg, Bremen, Hessen, Niedersachsen, NordRhein-Westfalen, Rheinland-Pfalz, Sachsen-Anhalt, Schleswig-Holstein, Thueringen, Catalunya, Comunidad Valenciana, Andalucia, Comunidad Madrid, Ayuntam de Madrid, City of Rome, Comune di Milano, Region of Lazio, Region of Sicily, Region of Campania, Sardinia Region, Region Marche, Friuli-Venezia, Region of Liguri, City of Naples, Tokyo Metropolitan Government, City of Moscow

State-Owned and Private Companies and Supranationals include:
Caisse d'Amortissement de la Dette Sociale, Caisse Nationale des Autoroutes, Deutsche Bahn, Freddie Mac, La Poste, Reseau Ferre de France, Rentenbank, SNCF, ASFINAG, ERAP, Hypo Alpe-Adria-Bank International AG, Instituto de Credito Oficial, KFW, NRW.BANK, L-Bank, Oesterreichische KontrolBk., SCHIG, UNEDIC, European Investment Bank, International Bank for Reconstruction and Development, EUROFIMA, Inter-American Development Bank, Council of Europe, European Bank for Reconstruction and Development, Nordic Investment Bank Europe
For a complete list, please contact ClientServices@asset4.com.

ASSET4
ASSET4 is the leading provider of objective, comparable and auditable extra-financial information. We provide professional investors and corporate executives access to the world's largest database of ESG information and the analysis tools to integrate that information into their everyday decision making. ASSET4 has 220 employees and is headquartered in Zug, Switzerland with locations in London, New York, Mauritius and India. ASSET4 is a proud signatory of the UN's Principles for Responsible Investment and a contributing member to organisations and initiatives like: UNEP-FI, Eurosif, UKSIF, USSIF, Nachhaltiges Investment and the Ceres Coalition in the US. For more information, please visit www.asset4.com.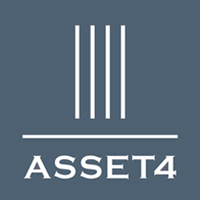 ASSET4
ASSET4
ASSET4 has the world's largest database of transparent, objective and auditable environmental, social and governance (ESG) information. Professional investors use our database and analysis tools for a variety of applications such as positive and negative screening, compliance monitoring and integration of ESG into their investment analysis. This enables them to systematically engage with companies, improve investment performance, reduce risk and lower research costs. Corporate executives, investor relations, CSR managers and corporate communication professionals have one-click access to ESG benchmarking and best-in-class tracking and evaluation capabilities. This enables companies to reduce enterprise risk, enhance corporate governance and increase accountability, transparency and trust, while at the same time improving communications with long-term investors and other stakeholders. ASSET4 has 240 employees and is headquartered in Zug, Switzerland with locations in London, New York, Paris, Frankfurt, Mauritius and India. It is a proud signatory of the UN's Principles for Responsible Investment. For more information, please visit www.asset4.com.
More from ASSET4