UN Global Compact Office Responds to NGO Letter
NEW YORK, NY. - 12 January 2009 - The following is the text of a letter by Georg Kell, Executive Director of the United Nations Global Compact, to an international coalition of civil society organizations. The letter is a response to an open letter to Georg Kell published...

Investors Give New Twist to "Good COP/Bad COP"
LONDON. - 12 January 2009 - A coalition of investors worth over USD 3 trillion has today launched an initiative to help police the corporate responsibility reporting of companies as diverse as Air France, GAP Inc and LVMH (Louis Vuitton Moet Hennessy).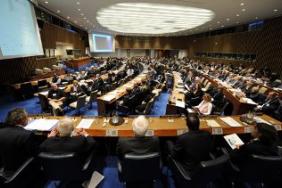 Global Investors Urge 9000 CEOs to Join UN Global Compact
NEW YORK, NY. - October 27, 2008 - In a powerful endorsement of the UN Global Compact, a group of global investors today announced a collaborative effort urging the Chief Executive Officers of approximately 9000 companies to commit to the UN Global Compact and its ten...


United Nations Global Compact
United Nations Global Compact