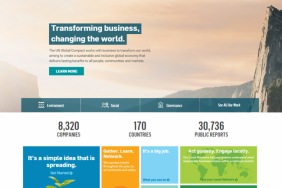 Sustainable Stock Exchanges Event
On 2 November 2009, this unique event at UN headquarters in New York will explore how the world's exchanges can work together with investors, regulators, and companies to enhance corporate transparency, and ultimately performance, on ESG issues and encourage responsible long...


Global Compact Participant Reports Now on Bloomberg
In a move to facilitate consideration of environmental, social, and governance (ESG) issues in investor decision-making, the content of annual progress reports issued by United Nations Global Compact business participants, known as Communications on Progress (COPs), is now a...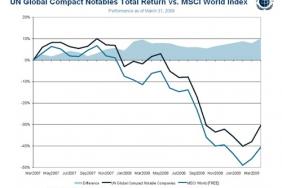 UN Global Compact: Notable Reporters Outperform Key Stock Index
NEW YORK, NY. - 18 June 2009 - UN Global Compact participants recognized as good, or "notable", sustainability reporters have outperformed a major stock market index over the past two years. This is the key finding of a new study released by the RiskMetrics Group, a...


Twenty Climate-Neutral Frontrunners Join Caring for Climate
STOCKHOLM. - 14 May 2009 - The United Nations Global Compact has welcomed 20 Scandinavian companies as new signatories to Caring for Climate, its business leadership platform on climate change. All have pledged and achieved climate neutrality.



United Nations Global Compact
United Nations Global Compact