Ceres Global (Ceres' annual conference) brings together institutional investors, C-Suite executives, policymakers, and other capital market influencers to accelerate action on the world's most urgent sustainability threats. The climate crisis, water scarcity, nature and biodiversity loss, and social inequity are plaguing the health and prosperity of our global communities, impacting our daily lives and threatening the economic and environmental stability of the world. If we are to solve the most pressing challenges facing the globe today, we must address the systemic and economic issues that fuel them. Join us for Ceres Global in March in New York City to discuss the challenges and advance the solutions for creating a more just and inclusive zero emissions economy that protects people and the planet from these existential threats. Together, we will set the course for the global action necessary to build a more just and sustainable world.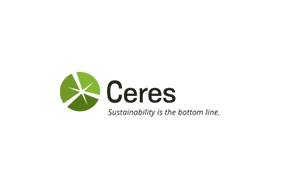 Ceres
Ceres
Our Mission: Ceres is transforming the economy to build a just and sustainable future for people and the planet. 
Ceres is a nonprofit organization working with the most influential capital market leaders to solve the world's greatest sustainability challenges. Through our powerful networks and global collaborations of investors, companies, and nonprofits, we drive action and inspire equitable market-based and policy solutions throughout the economy to build a just and sustainable future. For more information, visit ceres.org and follow @CeresNews.