Published 12-28-16
Submitted by Sealed Air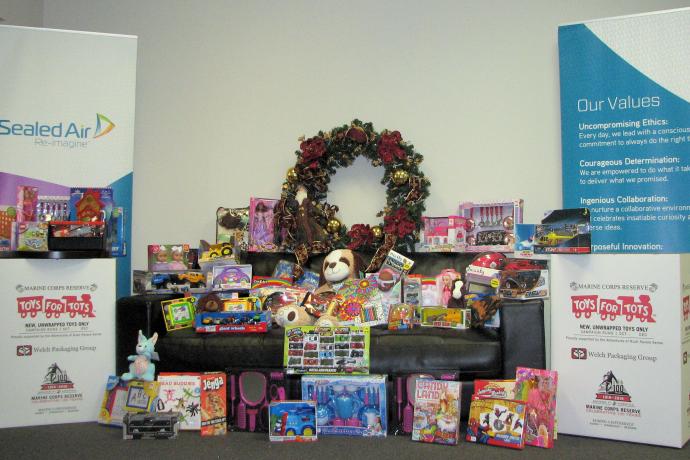 Sealed Air team members gather their Toys for Tots donations for delivery
Sealed Air Corporation (NYSE: SEE) has collected over 1,100 toys this holiday season for donation to the U.S. Marine Corps' Toys for Tots Program. Sixteen Sealed Air locations across the U.S. donated to this annual toy drive as a way to give back to children in the local communities in which they live and work. The company is a 2016 National Corporate Donor to Toys for Tots. 
For nearly 70 years, Toys for Tots has been the U.S. Marine Corps' premier community action program. The Toys for Tots message of hope for the future has motivated youngsters to grow into responsible, productive, patriotic citizens. Toys for Tots not only benefits children, but also has a positive impact on communities, on businesses – large and small, on the Marine Corps and on the nation.
"We are very pleased to welcome Sealed Air back as a national corporate donor of the Marine Toys for Tots Campaign," said retired Marine Colonel Ted Silvester, Vice President of the Marine Toys for Tots Foundation. "With their generous support, we will be able to fulfill the Christmas holiday dreams of many less fortunate children, who otherwise might have been forgotten."  
"We are pleased to be able to partner again this year with The United States Marine Corp Reserve for their signature program to give less fortunate children a special gift for the holidays," said James Whaley, Vice President, Global Corporate Communications for Sealed Air and Chairman of the Sealed Air Veterans Network.  "At Sealed Air, we are committed to benefitting the societies in which we live and work. The enthusiastic participation and donations given by Sealed Air employees shows how committed they are to the communities where they live and work."  
About Toys for Tots
Toys for Tots, a 69 year national charitable program run by the U.S. Marine Corps Reserve, provides happiness and hope to disadvantaged children during each Christmas holiday season.  The toys, books and other gifts collected and distributed by the Marines offer these children recognition, confidence and a positive memory for a lifetime. It is such experiences that help children become responsible citizens and caring members of their community. Last year the Marine Corps fulfilled the holiday hopes and dreams of 6.8 million less fortunate children in 782 communities nationwide. Since 1947 over 237 million children have been assisted. For more information, visit www.toysfortots.org.
About Sealed Air
Sealed Air Corporation creates a world that feels, tastes and works better. In 2015, the Company generated revenue of approximately $7.0 billion by helping our customers achieve their sustainability goals in the face of today's biggest social and environmental challenges. Our portfolio of widely recognized brands, including Cryovac® brand food packaging solutions, Bubble Wrap® brand cushioning and Diversey®cleaning and hygiene solutions, enables a safer and less wasteful food supply chain, protects valuable goods shipped around the world, and improves health through clean environments. Sealed Air has approximately 23,000 employees who serve customers in 169 countries. To learn more, visit www.sealedair.com.

Sealed Air
Sealed Air
Almost everyone we do business with has tangible sustainability and environmental goals and this customer-centric blue print is an essential ingredient in how we help them win - measured in three specific areas: Driving Growth We recognize our solutions for addressing social and environmental challenges cannot sacrifice cost competitiveness or performance and must add value to ensure long-term growth. We measure this through our ability to help take costs out of their operations and to protect and enhance their brands with packaging and cleaning solutions that provide consumer appeal. Conserving More Nearly all of our solutions help customers meet their goals for using fewer resources, less energy and water and generating less waste. We focus on the entire value chain of our products and our customers' products. It begins in our own operations with management of raw materials where we measure progress of the creation lighter and thinner packaging and by identifying alternatives to petrochemicals and continues downstream to our customer operations and to the consumer where we focus on energy and water reduction, the elimination of product and food damage and waste and eventual disposal. Living Better We create a better way for life by improving access to a more secure food supply chain - one that is safer and more nutritious, more efficient and less wasteful; improving health by keeping hospitals, hotels and office buildings safe and clean; and driving economic growth with products that extend global distribution.
More from Sealed Air