Published 02-24-16
Submitted by Sealed Air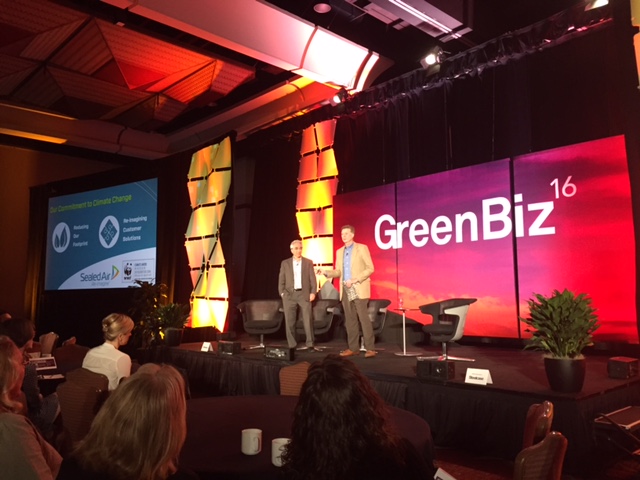 Sealed Air Corporation (NYSE: SEE) today announced its partnership with World Wildlife Fund's Climate Savers program in an effort to collaborate and advance work to mitigate the effects of climate change globally.  The Company made the announcement today with the Climate Savers team at the GreenBiz event in Scottsdale, Arizona.
Last year, Sealed Air announced its commitment to reducing Greenhouse Gases (GHGs) in its operations with the introduction of its 2020 Sustainability Goals.  Specifically, the Company has committed to reduce its Scope 1 and 2 GHG emissions in its operations by 25%. [1]  Also, Sealed Air's goals relative to climate change include Scope 3 GHG emission reduction targets.  The Company has committed that all newly developed products will offer sustainability advantages over the products or solutions they replace.  In addition, all new solutions brought to market will include a quantifiable sustainability benefit for customers. 
"It is an honor to become part of the Climate Savers program and join like-minded, leading companies who are committed to finding ways to reduce the effects of climate change.  We operate in a world with finite resources, and without constant innovation and awareness of the impact of our work, we will find ourselves in a difficult situation," stated Jerome A. Peribere, President and Chief Executive Officer of Sealed Air.  "At Sealed Air we pride ourselves on being leaders when it comes to game changing technologies and market disrupting innovations.  By harnessing the collective power of the Climate Savers membership, we can continue to make strides to ensure the Earth's resources are available for many generations to come."
"Climate Savers partners have two main directives: to set and achieve science-based climate protection commitments and to be a leader and advocate for climate-smart policies and actions within the business sector. Sealed Air has proven they are ready, willing, and able to do both," said Matthew Banks, manager of energy and climate protection at World Wildlife Fund. "Sealed Air, with our other Climate Savers partners, are showing that – bottom line – reducing greenhouse gas emissions goes hand-in-hand with economic growth. We hope that Sealed Air's pursuit of innovative and cost-effective solutions to tackle climate change will inspire other companies to deliver on the Paris climate agreement."  
Learn more about Sealed Air's most recent work to achieve their 2020 Sustainability Goals in its annual Sustainability Report.
Business
Sealed Air Corporation creates a world that feels, tastes and works better. In 2015, the Company generated revenue of approximately $7.0 billion by helping our customers achieve their sustainability goals in the face of today's biggest social and environmental challenges. Our portfolio of widely recognized brands, including Cryovac® brand food packaging solutions, Bubble Wrap® brand cushioning and Diversey® cleaning and hygiene solutions, enables a safer and less wasteful food supply chain, protects valuable goods shipped around the world, and improves health through clean environments. Sealed Air has approximately 23,000 employees who serve customers in 169 countries. To learn more, visit www.sealedair.com .
Website Information
We routinely post important information for investors on our website, www.sealedair.com, in the "Investor Relations" section. We use this website as a means of disclosing material, non-public information and for complying with our disclosure obligations under Regulation FD. Accordingly, investors should monitor the Investor Relations section of our website, in addition to following our press releases, SEC filings, public conference calls, presentations and webcasts. The information contained on, or that may be accessed through, our website is not incorporated by reference into, and is not a part of, this document.
Forward-Looking Statements  
This press release contains "forward-looking statements" within the meaning of the safe harbor provisions of the Private Securities Litigation Reform Act of 1995 concerning our business, consolidated financial condition and results of operations. Forward-looking statements are subject to risks and uncertainties, many of which are outside our control, which could cause actual results to differ materially from these statements. Therefore, you should not rely on any of these forward-looking statements. Forward-looking statements can be identified by such words as "anticipates," "believes," "plan," "assumes," "could," "should," "estimates," "expects," "intends," "potential," "seek," "predict," "may," "will" and similar references to future periods. All statements other than statements of historical facts included in this press release regarding our strategies, prospects, financial condition, operations, costs, plans and objectives are forward-looking statements. Examples of forward-looking statements include, among others, statements we make regarding expected future operating results, expectations regarding the results of restructuring and other programs, anticipated levels of capital expenditures and expectations of the effect on our financial condition of claims, litigation, environmental costs, contingent liabilities and governmental and regulatory investigations and proceedings. The following are important factors that we believe could cause actual results to differ materially from those in our forward-looking statements: the tax benefits associated with the Settlement agreement (as defined in our 2015 Annual Report on Form 10-K), global economic and political conditions, changes in our credit ratings, changes in raw material pricing and availability, changes in energy costs, competitive conditions, success of our restructuring activities, currency translation and devaluation effects, the success of our financial growth, profitability, cash generation and manufacturing strategies and our cost reduction and productivity efforts, the effects of animal and food-related health issues, pandemics, consumer preferences, environmental matters, regulatory actions and legal matters, and the other information referenced in the "Risk Factors" section appearing in our most recent Annual Report on Form 10-K, as filed with the Securities and Exchange Commission, and as revised and updated by our Quarterly Reports on Form 10-Q and Current Reports on Form 8-K. Any forward-looking statement made by us is based only on information currently available to us and speaks only as of the date on which it is made. We undertake no obligation to publicly update any forward-looking statement, whether written or oral, that may be made from time to time, whether as a result of new information, future developments or otherwise. 
[1] 25% Intensity reduction vs. 2012 baseline by the year 2020.
RESOURCES
For more information, see our news release.

Sealed Air
Sealed Air
Almost everyone we do business with has tangible sustainability and environmental goals and this customer-centric blue print is an essential ingredient in how we help them win - measured in three specific areas: Driving Growth We recognize our solutions for addressing social and environmental challenges cannot sacrifice cost competitiveness or performance and must add value to ensure long-term growth. We measure this through our ability to help take costs out of their operations and to protect and enhance their brands with packaging and cleaning solutions that provide consumer appeal. Conserving More Nearly all of our solutions help customers meet their goals for using fewer resources, less energy and water and generating less waste. We focus on the entire value chain of our products and our customers' products. It begins in our own operations with management of raw materials where we measure progress of the creation lighter and thinner packaging and by identifying alternatives to petrochemicals and continues downstream to our customer operations and to the consumer where we focus on energy and water reduction, the elimination of product and food damage and waste and eventual disposal. Living Better We create a better way for life by improving access to a more secure food supply chain - one that is safer and more nutritious, more efficient and less wasteful; improving health by keeping hospitals, hotels and office buildings safe and clean; and driving economic growth with products that extend global distribution.
More from Sealed Air