Published 10-09-15
Submitted by Sealed Air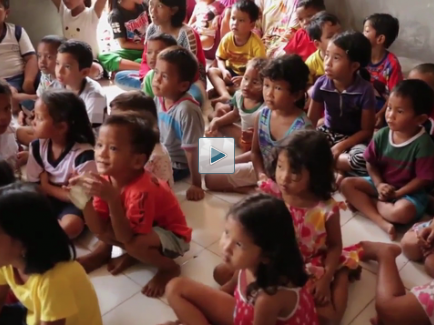 Click to watch the video
 Sealed Air Corporation (NYSE: SEE) was named the winner of the CSR Impact category in the 2015 Asian CSR Awards presented at the 14th Asian Forum on Corporate Social Responsibility (AFCSR) held from September 8-9 at the Shangri-La Hotel in Bangkok, Thailand.
Sealed Air's Himanshu Jain, Vice President for Indian subcontinent and Southeast Asia, received the award from His Excellency M.R. Pridiyathorn Devakula, Former Deputy Prime Minister, Kingdom of Thailand at the awards ceremony. The CSR Impact Award honors a program that has an on-going track record of significant sustainable impact, is innovative and easily replicated.
From among 134 entries from 12 countries, Sealed Air's Soap for Hope™ program was among more than 134 entries from 12 countries competing for the CSR Impact Award. The program is a partnership that starts with local hotels that are customers of Sealed Air. Sealed Air collects and channels used guest soap to local communities for recycling. The reconstituted bars of soap are then distributed back to the local communities.
The program's objective is three-fold: to save lives by promoting a cleaner and healthier environment through proper hand-washing with soap;  to provide a means of livelihood for local communities through learning a new skill; and to help hotels reduce waste by recycling used or discarded soap. Once used soap is collected from the hotels, Sealed Air transports them to local communities and teaches the local people to re-process soap using a specially customized cold-press method that requires no running water and electricity. The reconstituted soap bars are then distributed to communities that have limited access to basic hygiene amenities.
"A typical 400-room hotel generates 3.5 metric tons of solid soap waste per year," said Stefan Phang, Sealed Air's Director of Sustainability and CSR.  " Hand-washing with soap is among the most effective and inexpensive ways to prevent diarrheal and respiratory diseases in developing regions. Soap for Hope addresses waste reduction and hygiene enhancement at the same time, while also generating livelihoods for local communities."
Soap for Hope was first launched in Cambodia in 2013. Since then, it has been implemented in multiple Asian countries and expanded beyond the region. Soap for Hope's most recent launch was in Vietnam which was a resounding success with participation from 11 hotels. Soap for Hope is now in 17 cities across 11 countries including Indonesia, Thailand, Philippines, Malaysia, China, United Arab Emirates, Kenya and South Africa. Currently, 120 hotels are supporting the program and more than 160,000 beneficiaries gain free access to soap every year.
"Soap for Hope is a very real example of creating shared value for all parties involved – our customers, the NGOs, the local communities and Sealed Air employees. Every party plays a critical role and has embraced the Soap for Hope program enthusiastically," said Himanshu Jain. "We are honored to be recognized with this award and thankful to all those who have contributed to this program's success.  We look forward to growing the program in more locations in the future."
The Asian CSR Awards program was conceived by the Asian Institute of Management-Ramon V. del Rosario, Sr. Center for Corporate Social Responsibility (AIM-RVR CSR Center) in 2003 to honor Asian organizations that embody the principles of corporate responsibility in their business philosophy and operations. Awards are given to programs that achieve excellence in terms of services to stakeholders and innovative sustainable solutions to pressing social challenges. Awardees should demonstrate the company's leadership, sincerity and on-going commitment to incorporating ethical values, compliance with legal requirements, respect for individuals, involvement in communities and protection of the environment into the way they do business. Each year, the awards are given in several categories: Environmental Excellence, Education Improvement, Poverty Alleviation, Health Enhancement and CSR Impact.
About Sealed Air
Sealed Air Corporation creates a world that feels, tastes and works better. In 2014, the Company generated revenue of approximately $7.8 billion by helping our customers achieve their sustainability goals in the face of today's biggest social and environmental challenges. Our portfolio of widely recognized brands, including Cryovac® brand food packaging solutions, Bubble Wrap® brand cushioning and Diversey® cleaning and hygiene solutions, enables a safer and less wasteful food supply chain, protects valuable goods shipped around the world, and improves health through clean environments. Sealed Air has approximately 24,000 employees who serve customers in 175 countries. To learn more, visit www.sealedair.com.

Sealed Air
Sealed Air
Almost everyone we do business with has tangible sustainability and environmental goals and this customer-centric blue print is an essential ingredient in how we help them win - measured in three specific areas: Driving Growth We recognize our solutions for addressing social and environmental challenges cannot sacrifice cost competitiveness or performance and must add value to ensure long-term growth. We measure this through our ability to help take costs out of their operations and to protect and enhance their brands with packaging and cleaning solutions that provide consumer appeal. Conserving More Nearly all of our solutions help customers meet their goals for using fewer resources, less energy and water and generating less waste. We focus on the entire value chain of our products and our customers' products. It begins in our own operations with management of raw materials where we measure progress of the creation lighter and thinner packaging and by identifying alternatives to petrochemicals and continues downstream to our customer operations and to the consumer where we focus on energy and water reduction, the elimination of product and food damage and waste and eventual disposal. Living Better We create a better way for life by improving access to a more secure food supply chain - one that is safer and more nutritious, more efficient and less wasteful; improving health by keeping hospitals, hotels and office buildings safe and clean; and driving economic growth with products that extend global distribution.
More from Sealed Air