Published 04-22-09
Submitted by Clorox Company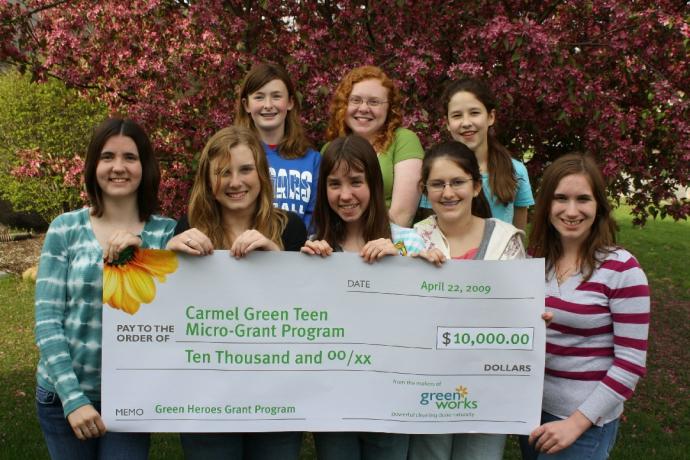 OAKLAND, Calif. - April 22, 2009 - Just in time for Earth Day, the makers of Green Works(TM) natural cleaners today announced the winners of its Green Heroes Grant Program. Through this program, the Green Works team is awarding five grants of $10,000 each to help eco-friendly community projects across the country grow and flourish. Winners of the Green Heroes Grant Program include:
 

Los Altos School District Living Classroom Program (Los Altos and Mountain View, Calif.) provides garden based, hands-on science and math lesson, using school gardens and living things to teach science and math to make the learning relevant and real world. 

Carmel Area Roots & Shoots Green Teen Micro-Grant Program (Carmel, Ind.) is a non-profit, volunteer organization dedicated to creating a greener, more sustainable community through 22 youth-driven, action-based environmental projects, such as planting trees, distributing rain barrels, recycling containers and compost bins, organic gardens, hosting roadside and waterways clean-up events and more.

Students for Sustainability (Chattanooga, Tenn.) is an alliance of high school students committed to improving the environment in their community. Baylor School students will create a county-wide alliance of students, who will assist in the implementation of green strategies at participating schools in the county.

Feed a Worm, Not a Landfill (Brooklyn, NY) is a program organized by students of The Brooklyn New School. The students will construct four large-scale Vermiculture Compost Systems to house 80 pounds of red wiggler worms, which will compost 100 percent of the school's food waste. In turn, the compost will be used to grow food in the existing schoolyard garden. 

Rogue River Greenway Project (Grants Pass, Ore.) is a recreational trail stretching 30 miles from Grants Pass to Central Point, Ore., along the Rogue River. Grant funding will fund various improvements along the trail, including building a trailhead, engineering, construction, signage, riparian restoration, purchasing waste receptacles, drinking fountains, benches and more.
About the Green Heroes Grant Program
The makers of Green Works natural cleaners created the program to support community eco initiatives in the U.S. by rewarding top projects with a $10,000 grant. The Green Heroes grants are intended to help these projects continue to grow, enriching local communities.

Between January 15 and February 28, 2009, the Green Works team invited individuals to nominate eco-friendly community projects for a Green Heroes grant by submitting an online photo and short essay about the project for consideration. A panel of eco-experts including representatives from the Sierra Club, EcoFabulous.com and Josh Dorfman, the Lazy Environmentalist, reviewed all submissions and selected 10 finalists. The five winners were selected by popular online vote (www.greenworkscleaners.com/greenhero) from March 23 until April 10, 2009.

For more information about the Green Heroes Grant Program, including official contest rules and entry guidelines, log on to www.greenworkscleaners.com/greenhero.
 
About The Clorox Company
The Clorox Company is a leading manufacturer and marketer of consumer products with fiscal year 2008 revenues of $5.3 billion. Clorox markets some of consumers' most trusted and recognized brand names, including its namesake bleach and cleaning products, Green Works(TM) natural cleaners, Armor All(R) and STP(R) auto-care products, Fresh Step(R) and Scoop Away(R) cat litter, Kingsford(R) charcoal, Hidden Valley(R) and K C Masterpiece(R) dressings and sauces, Brita(R) water-filtration systems, Glad(R) bags, wraps and containers, and Burt's Bees(R) natural personal care products. With 8,300 employees worldwide, the company manufactures products in more than two dozen countries and markets them in more than 100 countries. Clorox is committed to making a positive difference in the communities where its employees work and live. Founded in 1980, The Clorox Company Foundation has awarded cash grants totaling more than $73.4 million to nonprofit organizations, schools and colleges. In fiscal 2008 alone, the foundation awarded $3.7 million in cash grants, and Clorox made product donations valued at $5.3 million. For more information about Clorox, visit

Clorox Company
Clorox Company
At Clorox, we believe that the long-term health of our company depends on maintaining high standards of business conduct, integrity, safety, quality and respect for people and the environment in everything we do. Our corporate social responsibility principles reflect a deep commitment to uphold these standards. We've made this commitment to our shareholders, business partners, communities and each other because, in many instances, our standards demand more from us than what is legally required, and because it's the right thing to do.
More from Clorox Company