Published 05-05-09
Submitted by Motorola Solutions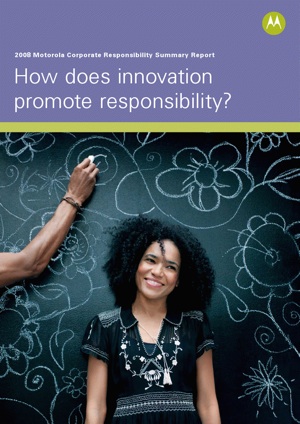 Motorola Celebrates 80 Years of Advancing the Way the World Connects in 2008 Corporate Responsibility Report
SCHAUMBURG, Ill. - May 5, 2009 - Motorola, Inc. (NYSE: MOT) today announced the release of its 2008 Corporate Responsibility Report, highlighting actions the company has taken on social, accountability and environmental initiatives around the world.
"Motorola is working to help our customers and consumers be more connected and environmentally responsible," said Sanjay Jha, Motorola co-chief executive officer. "Our newly designed Mobile Device chargers, for example, use 0.10 watts or less of standby power, reducing wasted energy. Software in our newly designed mobile phones reminds users to unplug their chargers after use."
Motorola's products help connect people to one another, including access to education, safety and health services. For example, through its involvement in the Phones for Health program, Motorola helps field health workers in Africa speed response to disease outbreaks or medicine shortages by using mobile phones. The company also deployed WiMAX in Ecuador to bring wireless broadband to 10,000 people who previously had no Internet access.
"We are fully committed to doing our part to tackle climate change," said Greg Brown, Motorola president and co-CEO. "We are improving energy efficiency across our full range of products. Since 2005, we have reduced our carbon footprint by 20 percent, and we are working on using renewable energy to help power our products."

Highlights from the 2008 report:
The recently launched MOTO(TM) W233 Renew mobile phone is the world's first CarbonFree(R) Certified phone through an alliance with Carbonfund.org. It is made of polycarbonate from recycled post-consumer water cooler bottles, which means 20 percent less energy is needed to create the phone. Renew is an affordable, environmentally responsible device for cell phone users committed to making a difference and reducing their carbon footprint.

Motorola collected more than 2,560 tonnes of electronic and electrical equipment waste for recycling, about a one percent increase from 2007. The company participates in or manages recycling programs in 70 countries around the world, covering more than 90 percent of its global mobile phone unit sales.

Motorola and the Motorola Foundation invested $23.7 million globally to support community, education and disaster relief programs. In addition, its employees donated $4.3 million to non-profit causes.

In the U.S., the Motorola Foundation committed more than $4 million to support more than 90 programs that develop students' interest and skills in science, technology, engineering and mathematics (STEM). These programs primarily focus on STEM education for girls and underrepresented groups. Projects supported in 2008 ranged from a science internship and mentoring program for low-income high school students to hands-on after-school science and robotics clubs.

During the company's third annual Global Day of Service, more than 10,000 employees in 45 countries volunteered in their local communities for a total of more than 44,000 volunteer hours.
Download a report summary at www.motorola.com/responsibility.
About Motorola
Motorola is known around the world for innovation in communications and is focused on advancing the way the world connects. From broadband communications infrastructure, enterprise mobility and public safety solutions to high-definition video and mobile devices, Motorola is leading the next wave of innovations that enable people, enterprises and governments to be more connected and more mobile. Motorola (NYSE: MOT) had sales of US $30.1 billion in 2008. For more information, please visit www.motorola.com.

MOTOROLA and the stylized M Logo are registered in the US Patent & Trademark Office. All other product or service names are the property of their respective owners. (C) Motorola, Inc. 2009. All rights reserved.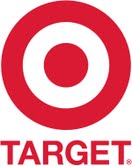 Motorola Solutions
Motorola Solutions
Motorola Solutions is a leading provider of business- and mission-critical communication products and services for enterprise and government customers. Through leading-edge innovation and communications technology, it is a global leader that enables its customers to be their best in the moments that matter. Motorola Solutions trades on the New York Stock Exchange under the ticker "MSI." To learn more, visit www.motorolasolutions.com. For ongoing news, please visit our media center or subscribe to our news feed.
More from Motorola Solutions