Published 02-08-05
Submitted by Booz Allen Hamilton
NEW YORK - A groundbreaking new study by the Aspen Institute and management consulting firm Booz Allen Hamilton found that companies routinely identify values as a top agenda issue, and public companies that report superior financial results also report greater success in linking values to operations in areas that foster growth, such as initiative and innovativeness. However, most corporate executives do not see a direct link to growth, and the joint study also revealed that most companies are not effectively measuring their "Return on Values" in areas important to their business strategy.
The survey examined detailed responses by 365 senior executives from around the world, representing a broad range of industries. The results were revealed today at a roundtable discussion on "Deriving Value From Corporate Values," at the Harvard Club in New York.
The study found that ethical behavior is part of a company's license to operate. Eighty-nine percent of companies studied have a written corporate values statement, and 90% of these specify ethical conduct as a principle. Other business values commonly included in formal statements are commitment to customers (88%) and commitment to employees (78%).
"Ethics-related language in formal statements not only sets corporate expectations for employee behavior -- companies are using it as a shield in an increasingly complex and global legal and regulatory environment," said Chris Kelly, Vice President at Booz Allen.
In contrast, some of the values often closely associated with revenue or earnings growth are found less often in values statements, such as innovativeness (60%), initiative (44%), and adaptability (31%). Commitment to diversity appeared in 41% of values statements studied.
Among financial leaders - public companies that outperform their industry averages - 98% include ethical behavior/integrity in their values statements, compared with 88% for other public companies. Far more of these financial leaders include commitment to employees (88% vs. 68%), honesty/openness (85% vs. 47%) and drive to succeed (68% vs. 29%). Forty-two percent of the financial leaders emphasize adaptability in their values statements, compared with a mere 9% for other public companies.
Financial leaders also appear to be doing a better job than other companies of linking corporate values to corporate operations. Nearly all (94%) say they have practices in place to ensure that their values are aligned with those of their suppliers, distributors and partners, compared with 64% for other public companies. Seventy-five percent of financial leaders say their management practices are very effective in fostering teamwork and trust, compared with fewer than half the other public companies. Approximately 60% of the financial leaders say their practices are very effective in promoting initiative, adaptability, and innovativeness and entrepreneurship, compared with about 30% for other public companies.
In addition, the financial leaders believe social and environmental responsibility have a positive financial impact. Nearly half (49%) said that both environmental and social responsibility have a positive impact on financial performance in the short run, compared with 34% for the other public companies. "Clearly, many companies are successful in turning their corporate values into a competitive asset," said Judith Samuelson, executive director of the Aspen Institute Business & Society Program. "As a result, they are better positioned to take advantage of the relationship between values and performance."
The study found striking regional differences in companies' approach to values. Ethics are addressed in the values statements of more North American companies (95%) than firms in Europe (84%) and Asia (85%). Environmental responsibility features more prominently in corporate values statements in Europe (55%) and Asia (56%), than in North America (34%). Some performance-related values normally associated with American culture are more esteemed outside the U.S. For example, almost three-quarters of European companies value innovativeness and entrepreneurship; only half of U.S. companies articulate these principles.
The study also found strong regional variations in the way companies apply values related to their broader role in society. For example, 63% of Asian firms say, "listening to diverse perspectives helps us to avoid strategic and operational mistakes"; only 49% of North American firms agree. Conversely, while 81% of North American companies have employees volunteer in the community, less than half of Asian and European companies do so.
How do these companies align values and strategy so that executives can make decisions that support their corporate values? The most important factor is the behavior of the CEO. Eighty-five percent of the respondents say their companies rely on explicit CEO support to reinforce values, and 77% say it is one of the "most effective" practices for reinforcing the company's ability to act on its values. However, companies have less confidence in the effectiveness of other management practices used to support values: only 34% of respondents identified training as a "most effective" practice, 32% cited internal communications and 30% identified incentive compensation.
More than two-thirds of companies report that they collect some form of information for assessing the long-term financial impact of upholding values. However, there is little common ground among the types of information that companies collect. Moreover, it is striking how few companies are actually measuring how values affect business performance in the areas where they say values matter. Although nearly two-thirds of respondents agree that a corporation's values can strongly affect customer loyalty, less than one-third of companies use customer preference data regarding their company's values or social impact.
Methodology
Beginning in July 2004, 365 executives completed print or online surveys to understand how companies are dealing with the challenges of managing values. More than three-quarters of the respondents are top leaders in their companies. CEOs and Managing Directors comprise nearly one-fourth of the sample (24%), with other C-level executives comprising another 22%. Board members comprise 7%, and general managers and heads of departments and divisions represent 32% of the respondents. Sixty-five percent of the respondents are from companies with annual revenues exceeding $1 billion.
Nearly half of the respondents (47%) are based in North America with another fourth (27%) representing companies based in Europe, and a fifth (24%) representing companies based in Asia/Pacific. Respondents represent many industries: financial services and manufacturing lead at 26% and 25%, respectively, followed by technology and consumer-related companies (including consumer products, media and retail), each at 11%. Utilities (7%), transportation (7%) and energy (5%) comprise the balance along with 8% in miscellaneous or unclassified industries.
For a copy of the report or for more information, please contact Karen Guterl at guterl_karen@bah.com or Jim Spiegelman at jim.spiegelman@aspeninstitute.org.
About The Aspen Institute
The Aspen Institute, founded in 1950, is an international nonprofit dedicated to fostering enlightened leadership and open-minded dialogue. Through seminars, policy programs, conferences and leadership development initiatives, the Institute and its international partners seek to promote nonpartisan inquiry and an appreciation for timeless values. The Institute is headquartered in Washington, D.C., and has campuses in Aspen, Colorado, and on the Wye River on Maryland's Eastern Shore. Its international network includes partner Aspen Institutes in Berlin, Rome, Lyon, Tokyo, and New Delhi, and leadership programs in Africa and Central America.
To learn more about the institute, visit the Aspen Institute website at www.aspeninstitute.org.
About Booz Allen Hamilton
Booz Allen Hamilton has been at the forefront of management consulting for businesses and governments for 90 years. Booz Allen, a global strategy and technology consulting firm, works with clients to deliver results that endure.
With more than 16,000 employees on six continents, the firm generates annual sales of $3 billion. Booz Allen provides services in strategy, organization, operations, systems, and technology to the world's leading corporations, government and other public agencies, emerging growth companies, and institutions.
Booz Allen has been recognized as a consultant and employer of choice. In a recent independent study by Kennedy Information, Booz Allen was rated the industry leader in performance and favorable client perceptions among general management consulting firms. Additionally, for the past six years, Working Mother has ranked the firm among its "100 Best Companies for Working Mothers" list. And in 2005, Fortune magazine named Booz Allen one of "The 100 Best Companies to Work For."
To learn more about the firm, visit the Booz Allen Web site at www.boozallen.com. To learn more about the best ideas in business, visit www.strategy-business.com, the Web site for strategy+business, a quarterly journal sponsored by Booz Allen.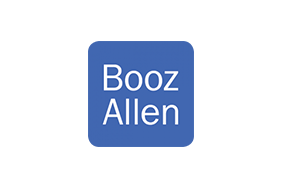 Booz Allen Hamilton
Booz Allen Hamilton
For more than 100 years, business, government, and military leaders have turned to Booz Allen Hamilton to solve their most complex problems. They trust us to bring together the right minds: those who devote themselves to the challenge at hand, who speak with relentless candor, and who act with courage and character. They expect original solutions where there are no roadmaps. They rely on us because they know that—together—we will find the answers and change the world.
We solve the most difficult management and technology problems through a combination of consulting, analytics, digital solutions, engineering, and cyber expertise. With global headquarters in McLean, Virginia, our firm employs more than 26,000 people globally, and had revenue of $6.70 billion for the 12 months ended March 31, 2019. To learn more, visit www.boozallen.com. (NYSE: Booz Allen)
More from Booz Allen Hamilton