More European Companies Switch to Green Power
LAUSANNE, SWITZERLAND - September 14, 2007 "" A growing number of European companies are switching to renewable energy for their manufacturing plants, stores and office facilities. Renewable energy is allowing more companies than ever to power their operations while realizin...

New Analysis Reveals $5 Trillion Market at Base of the Pyramid
WASHINGTON, D.C. - March 19, 2007 "" Four billion people who live in relative poverty have purchasing power representing a $5 trillion market, according to a new report released today by IFC, the private sector arm of the World Bank Group, and World Resources Institute.
...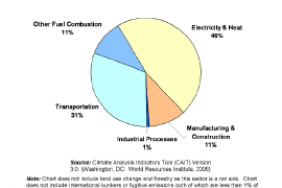 WRI's Lash Named 'Warrior & Hero' By Rolling Stone Magazine
WASHINGTON, D.C., November 3, 2005 - Jonathan Lash ended his days as a motorcycle enthusiast when his youngest daughter began to show a similar interest. These days, the president of the World Resources Institute still pours his enthusiasm into protecting people - but...

World Resources Institute
World Resources Institute