At Green Festival®, a joint project of Global Exchange and Green America, we're celebrating what's working in our communities - for people, business and the environment.
Think of Green Festival® as a walk through a sustainable community. It begins with finding solutions to help make our lives healthier - socially, economically and environmentally. Individuals along with business and community leaders come together to discuss critical issues that impact us at home and abroad. Organizations and businesses showcase programs and products that restore the planet and all that inhabit it. Neighbor-to-neighbor connections are formed, and skills are shared to empower people to create positive change in the world.
Join us at the nation's premier sustainability event, where you will see the best in green. Enjoy more than 125 renowned authors, leaders and educators; great how-to workshops; cutting-edge films; fun activities for kids; organic beer and wine; delicious vegetarian cuisine and diverse live music. Shop in our unique marketplace of more than 350 eco-friendly businesses - everything from all-natural body care products and organic cotton clothing to Fair Trade gifts and beautiful kitchen tiles made from renewable resources.
See the most recent developments in renewable energy and green technology; sample Fair Trade chocolate and coffee (yes, they really do taste better); and learn how to invest in your community, green your home and avoid products made in sweatshops.
Recharge your batteries with all the hope, inspiration and practical ideas you'll find at the one and only Green Festival®.
Green Festival® Facts:
Green Festival® is the largest sustainability event in the world and continues to grow year after year.


Green Festival® is the only green event that screens exhibitors for their commitment to sustainability, ecological balance and social justice using Green America's green business standards.


Green Festival® offsets 100% of its electricity emissions with clean, renewable energy.


Green Festival® walks its talk: each year it gets closer to being a zero-waste event.
For more information about the two nonprofit organizations producing Green Festival®, visit www.globalexchange.org and www.greenamericatoday.org.
Editor's Note: CSRwire CEO, Joe Siblia, will be speaking at this event about his new book Street Smart Sustainability -- Entrepreneurs Guide to Profitably Greening Your Organization's DNA.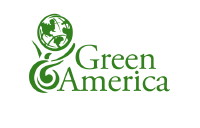 Green America
Green America
Green America is United States' leading green economy organization. Founded in 1982, Green America provides the economic strategies, organizing power and practical tools for businesses and individuals to solve today's social and environmental problems. Green America's green economy programs encourage corporate responsibility, tackle climate change, build fair trading systems, advance healthy, local communities, and provide green purchasing and investing information for families and businesses. To receive Green America's popular publications, including the Green American and the National Green Pages™, participate in Green Festivals, or to get its free e-newsletter, providing the latest green news, green discounts, and opportunities to take action for a green economy, visit http://www.GreenAmerica.org, email info@GreenAmericaToday.org, or call at 800-58-GREEN.
More from Green America