At the Green Festivals, we're celebrating what's working in our communities, for people, for businesses and for the environment. Here, green means safe, healthy communities and strong, local economies. Green is the color of hope, of social and economic justice, of ecological balance.
Join us for these huge parties with a purpose. You'll enjoy more than 200 visionary speakers and 400 green businesses in each city, great how-to workshops, green films, yoga and movement classes, green careers sessions, organic beer and wine, delicious organic cuisine and live music.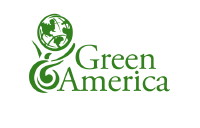 Green America
Green America
Green America is United States' leading green economy organization. Founded in 1982, Green America provides the economic strategies, organizing power and practical tools for businesses and individuals to solve today's social and environmental problems. Green America's green economy programs encourage corporate responsibility, tackle climate change, build fair trading systems, advance healthy, local communities, and provide green purchasing and investing information for families and businesses. To receive Green America's popular publications, including the Green American and the National Green Pages™, participate in Green Festivals, or to get its free e-newsletter, providing the latest green news, green discounts, and opportunities to take action for a green economy, visit http://www.GreenAmerica.org, email info@GreenAmericaToday.org, or call at 800-58-GREEN.
More from Green America